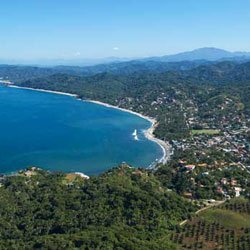 So now that we've had a mellow lunch at the Casa Manana, you might decide..wow what a sweet little expedition, these icy cervezas and camarones al mojo de ajo have put me into a perfect mood for siesta. I wouldn't blame you at all if you whipped back to Villa Estrella for a siesta in the hammock. Maybe continue the San Blas trip on another day, or……
Head out from the parking lot and turn left toward San Blas, and….right away, on your right, screech to a halt….there's an industrial warehouse, with a gate and guardhouse. Don't be shy, go in there, tell them you want to buy some dried mangoes. A kilo bag of dried mango fruit is one of the most delicious snacks you can find anywhere. Buy a few bags. Maybe John is there, tell him that Jackie from Villa Estrella sent you. The stuff is just delicious and so good for you.
So while we are zipping down the road munching mangoes, we pass a mishmash of beach houses in varying states of quality, disrepair and completion. The landscape gets a little flat, and not quite so charming. Anyways, after some 30 minutes, you wind through some villages, and you suddenly come across a most incongruous thing (nothing incongruous should surprise you in Mexico) There ..all of a sudden is the biggest fanciest Corona beer distribution palace on your left. Bigger and fancier than your average Costco, painted brilliant white.
Turn left and drive a mile or less. There on your left is Matanchen Bay, a beautiful sandy crescent of soft sand beach free of surf, ringed by your classic Mexican Palapa outdoor restaurants. Soooo…if you didn't stop at Casa Manana..you could stop here..barefoot in the sand..more icy beer..hope you brought your bathing suit, because the swimming is great. Matanchen bay is sheltered from the prevailing winds, and the waters are calm. Yachtsmen use Matanchen Bay as a safe overnight Anchorage. In the late 1700s The Spanish Navy had shipyards here and warehouses. From here the Spanish Navy equipped its vessels with the goods to support the spanish missions in California, as well as to conduct explorations all the way up the coast to Alaska.
Soooo….. with the comfort of cool beer, bare foot in the sand, try the pulpo,(octopus chopped and fried with garlic) I wouldn't blame you if your happiness was complete for the day.
Stay tuned for the next installment…banana bread and crocodiles