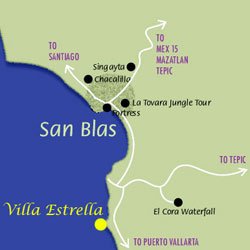 Day trips to San Blas from Villa Estrella are family fun. Ismael can arrange for car and driver, its about a 45 minute trip up some of the prettiest countryside and coastline in the region. The views from some of the hillsides looking down into the orchard patchwork quilted valleys are just spectacular. tapestries of mango, banana and agave blanket the country side. The background to the west is the endless blue ocean and to your right, the glorious, lush green foothills of the Sierra Madre Mountains.
The road winds through the charming village of El Llano where fruit stand vendors try to sell you Jaca fruit products. Slow down at the town square and take in the charming cookie cutter facade of the old church. I recommend the Jaca fruit ice. You will also notice that the Noni fruit grows here and they will sell you those products too.
Right after El Llano the road offers two choices; Turn right and you can go all the way to Tepic, Guadaljara and even Mexico City. Future posts will detail some really interesting trips to those Cities. 20 minutes down that road you will also come to el Cora, site of a gorgeous waterfall you can hike to"..but that's another story, today we are taking the LEFT turn and continuing toward San Blas.
Our next favorite stop on the road to San Blas is about another 10 minutes up the road as you enter the community of Las Cocos. There on the left is a clunky looking building called the Casa Mana, its a hotel. Doesn't look like much, park your car, walk through the breezeway and Ta Daaa……
There is a lovely pool, restaurant,palm trees and beach. Pull up a chair at a table under the palm tree and have yourself some icy coronas and a plate of tasties from the menu. Food is good, atmosphere is cheerful, bright and fun. Come back on a Saturday night for "pizza night". The pizza is great and often there is live entertainment, including sometimes Mexican Folk dancing.
In our next instalment, we will continue our trip to San Blas…with stops for Banana Bread, the longest surfing wave, and crocodiles. Have patience, eventually we will get to San Blas, a historic Spanish Naval Port from the 1775.