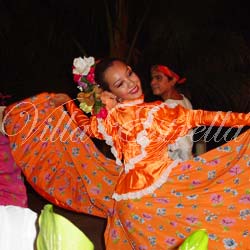 One of our favorite things to do on Saturday night when staying at Villa Estrella is to drive to Casa Manana at Playa Los Cocos for pizza night. It's about a 25 minute drive and we like to get there about a half hour before sunset so that we can all be in position, with our margaritas in hand, when the fireball is ready to be swallowed by the sea.
We take our sunset ceremonies seriously down here. Wear polarized sunglasses. Sometimes when conditions are just right, when the sky is clear and the ocean is blue, you can see the famous green flash. In the last microsecond as the top edge of the sun disappears into the sea there is an exquisite green flash – something about certain gases in the corona of the sun (too technical for me), but I digress. It's amazing to see.
When going for pizza night at Casa Manana we like to go in larger groups of friends. We pull together a number of tables and sit by the charming terrace overlooking the beach. The service is good and friendly and the owners Lourdes and Reinhart are always available for a friendly chat. The margaritas at Casa Manana are generous, potent and tasty.
The open hearth pizza ovens are hot and ready, and the thin crust pizzas are excellent. There is a choice of about 6 types of pizzas and they are all good. Sometimes we like some contrast to the Mexican fare that we eat here on a daily basis as part of our meal plans. The nights spent at Casa Manana are always excellent times filled with laughter, good cheer and friendship.
Many times there is a show with singers, bands and dancers. My favorite was the SANIX folkdancers from Santiago Ixtlan. A beautiful group of about 30 lovely young people in fabulously colorful costumes dancing their hearts out for us. We loved them so much, we have engaged them to come back and dance at our mexico weddings hosted at Villa Estrella.
The drive back to Villa Estrella, our romantic Mexico Villa getaway, is leisurely. We usually return around 10 in the evening to finish off the day with a dreamy dip in our heated cliff-edge pool under the moon and stars (clothing, of course, is optional).