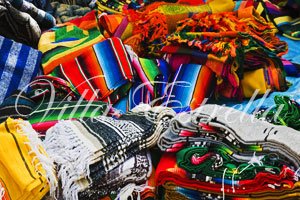 Got up early and left Villa Estrella by 8 because we had to go to the immigration office in Bucerias to renew our FM3 visa. That is always a pain in the ass that eats up a whole day, its 2 hours drive each way, then the visa process which doesn't take long, but after that we stay for a while to have lunch somewhere on the beach. We found a pretty spot with four chairs and a table under a palapa umbrella right in the sand. There is nothing sweeter than an icy Corona under a shady palapa on a powdery beach with lovely blue water beyond. We had the sopa azteca, shrimp on avocado halves, some seafood quesadillas, and a really nice little steak, (not to mention a few more icy ones). Bucerias is not the prettiest town in the world, but it has a great beach, and pretty fine restaurants.
The wandering vendors were all over us like a feeding frenzy of mapaches (Mexican raccoons), for the first while we could hardly enjoy our cervezas. There is always the horde of jewellery venders with open attaché cases of silver stuff. Once guy claimed that his one particular bracelet would cure arthritis, and this was a well know fact that everyone in Mexico knew about. Some pretty girl in native dress, apparently from Chiapas, sold us a cute little colourful hand made purse that will be nice for our grand daughter. After about the 20th vendor we put on our stone face and tried to ignore them (with limited success)
Once again, there was this neat old guy with the beat up guitar that had a harmonica taped to the top of it. He was missing quite a few teeth. I always fall for these charming old timers and ask them to sing a few songs. His name was Simon, his voice was great, he danced while he played, his tunes were joyful and he sang us 3 lovely songs for 100 pesos.
So, no trip anywhere is complete without…you guessed it….shopping….naturally, and in no time at all, in a back street of Bucerias where I could hardly squeeze in with my lumbering Suburban, we found a store with stuff we just HAD to have; these fine hand woven tapestries from Oaxaca, hand woven by the family that ran the store. They showed us how they make their own dyes; browns from nut shells, and purples from some powdered insect. If you added lime juice to the purple powder insect, you got orange dye. There was pictures of papa grinding the nuts, pictures of mama cording the wool. To make a long story short we are now proud owners of a tapestry full of colorful fish, and a hand woven bedspread of blues and oranges for the king size bed.
After that a short wander down a street lined both sides with hundreds of little vendors stands, each one trying to con you into buying something, all kinds of silly trinkets and souvenirs that will gather dust back home. Well we decided to quickly pickup some Christmas items for the folks back home. We zeroed in on these cute little Mexican tequila shot glasses, hand blown, each one a little different from the other. We got four blue ones for one person, four red ones for another, then four more yellow ones, not sure if we got the green ones as well. By the time we got done it was already 3 o'clock. Now there is still a 2 hour drive to get back, and we wanted to be back at Villa Estrella before the sun goes down. Missing the nightly sunset ceremony is not something to be taken lightly. You never know when you might miss that ultimate sunset experience; the elusive "green flash" (that's the subject of another story).
On the way home through the mountains between Bucerias and Sayulita we pass the pueblito of San Ignacio, blink and you miss it. There were a couple of rustic rickety fruit stands, and right beside one of them, lo and behold; they were selling these nice rustic hand woven rattan type basket-weave lamps which are perfect for the architecture of Villa Estrella. I have to tell you, Villa Estrella has a palalapa roof, which is basically like living inside a huge woven palm frond basket, so these were just the lights to go with the look. There was no one there to sell them to us, until we noticed that the simple sleepy dusty house behind the stand, had a man and woman siesta-ing in two hammocks in the yard beside the rusty derelict truck, so we had to wake them up to get service. We tried to bargain for a lower price but he wouldn't budge, we got the lamps for half the price of anywhere else.
Back on the road again, the rest of the trip pretty uneventful, jungles, and valleys, and fields, and farms, distant mountains and scruffy charming villages. Another stop at one of those cute fruit stands for the best little bunch of bananas anywhere, and then back home just in time for sunset.
The plan for tonight is crank up the pool heater and have a toasty hour daydreaming under the black velvet starry sky, with the ocean surging below, looking out across the sea at the twinkling lights of pangas night-fishing, and then much further beyond, the lights of San Blas in the distance. It's in the pool that all the weighty issues of the day are rehashed; as in; where shall we hang the new tapestry?
Another day in paradise!