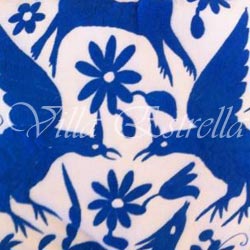 Villa Estrella is all about relaxation, and comfort. At the heart of the villa is the amazing built in curved 12 foot long banco, a custom made lounge, built of concrete, an integral built-in part of the villa architecture itself, that follows the curves of the palapa and integrates with the structural columns that hold up the entire thatched roof. It has custom made upholstered seats and backs set into the concrete of course. A classic concept in Mexican Pacific architecture. A great place to lounge, converse, share good company, nap, read endless books, it is the heart of intimacy and comfort within the villa.
It is also the visual focal point of the villa interior, this is where the eye is drawn, an inviting warm and appealing mélange of comfort and colour calling to you. This is where comfort and eye appeal meet, and…..you guessed it, this is the land of "power pillows".
From day one, like rabbits, pillows have been multiplying on this banco. Not a season passes without a new litter arriving to add to the family. These are not just any pillows, this is the story of Mexico, its colour and culture and folk art, assembled over time from shops in Tlaquepaque, from village markets, from Patzcuaro, from local artisans and some handmade right here at Punta el Custodio by the wonderfully skilled resources that we have right here. A fascinating collection that tells stories of legendary birds, flowers, village life, ceremonial events. A collection of colours, patterns, simply done and beautifully made that honours this beautiful country these great people, and this wonderful home of ours.
Come to Mexico, visit the wonderful state of Nayarit. We are on the famous Riviera Nayarit, 65 miles north of Puerto Vallarta, near the village of Platanitos. Rent our beautiful Villa Estrella, and see what all the fuss is about for yourselves.
Enjoy the images.