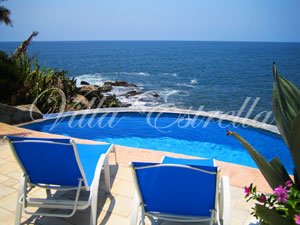 One fun thing we like to do at every visit is to go through the guest book that we keep at Villa Estrella. We eagerly read the comments and testimonials that our guests write into the book. We find it heartwarming and delightful to read about how much our guests have enjoyed their stay at Villa Estrella, how they love the staff, especially Rosa, how they love the food, and how sad they are to have to leave.
We don't think their comments should languish in a book on the shelf. This kind of joy needs to be shared, and we would like to share it with you. So here you are; below are some of the pages written by our beloved guests during their stays at Villa Estrella in 2010. These are real and wonderful people. During the bookings process I get to know them a bit. These are all unique people with whom we have a lot in common. We all share that deep love of nature, beauty, individuality, ocean and adventure. It's a very powerful, common bond.
Come to Mexico, visit the wonderful state of Nayarit. We are on the famous Riviera Nayarit, 65 miles north of Puerto Vallarta, near the village of Platanitos. Rent our beautiful Villa Estrella, and see what all the fuss is about for yourselves.
Thank you so much for making our stay so special. None of us want to leave this beautiful place. The staff was awesome!! The food was awesome, everything was perfect. The tranquil environment really enabled us all to re-connect to our spouses in a special way. We all renewed our vows to each other while we were here. We will never forget this place! Thank you! – The Allens, The Gregory's and The Gallaghers
We had a wonderful time! Very relaxing and great food! Your villa will be remembered and recommended to lots of friends! It was great to have no TV and to enjoy the sounds of the ocean. Surfing & boogie boarding was amazing. – Dan and Tonya Decker p.s. can we take Rosa home to Steamboat Colorado?
Wow what a great piece of paradise. Great food, fun and friends. We will always remember the memories from this vacation. The views, surfing, fishing, boogie boarding, the waterfall, the drive to the waterfall, and of course the great staff! Thanks for everything! – Jeff, Shellyn & Marcy Dillingham
Clark, Colorado
I do not want to leave!! Thank you for sharing your lovely home with our families. We will miss the incredible views, the ocean, the waves, the birds and the sunsets. Profound relaxation in nature is invaluable. We hope to return soon! – Sack-Albert Family, Seattle, WA and Stosur-Hatcher Family, Portland OR
This was our second honeymoon and it was spectacular! Rosa's cooking was heavenly and we enjoyed a great fishing trip, (we had tuna sashimi for dinner!) and we also enjoyed the jungle cruise- at lunch we were introduced to the most wonderful oysters we ever had. I could go on and on and on. the house was wonderful, sleeping to the sounds of the ocean will be missed and the PURE RELAXATION will be longed for. We will be back! – The Freemans, Texas
We gad a great week here at Villa Estrella! Beautiful house, awesome sunsets, amazing views, and the most fantastic staff works here at Punta el Custodio! We could not have asked for a better place to spend our vacation at. Definitely will be suggesting this to our friends and family. Ulrich and Jackie, thanks to opening your home to us. Rosa, thanks so much for the delicious meals and your smiling face every day! Ismael and the rest of the staff thank you so much for always helping us with whatever we needed. Hope to be back sometime soon! Muchas Gracias para todos! – Sarah & Andy, Gridwood Alaska
The villa was perfect! We loved how the tropical outdoors came right into the interior! We loved the brightness of the sky at night and saw millions of stars every night as we relaxed in the infinity pool to all hours of the night. It was a super place to surf, or at least learn how to surf. We enjoyed the friendly staff. A wonderful and relaxing holiday. – Dr. Ron & Wendy G. & family
This villa was amazing! Rosa and the food couldn't have been more perfect! What a great way to getaway and relax. Falling asleep to the sound of the ocean is fantastic. Boogie boarding was such a fun experience. We really don't want to leave Rosa, such a smiling happy person, we will never forget her!! 🙂 She makes the most unbelievable food. Her keylime pie is to die for. Overall the staff here is amazing, Thanks so much for a wonderful week we loved it! – The Kupchella Family, Minneapolis, MN
This was truly the most wonderful vacation we have ever taken (this includes our honeymoon). We have never been so well taken care of, fed, rested and relaxed. I recommend Villa Estrella to anyone needing a hideaway from the crazy world and time to reconnect to themselves or to those they love. We will be returning in 2011….. and we are trying to find a way to get back this summer. We have tried other vacation spots to no avail and have decided we will make Villa Estrella our annual kid-free vacation. – Cara Vanberg Freeman
To Read More reviews left by our Guests, see our Testimonials.