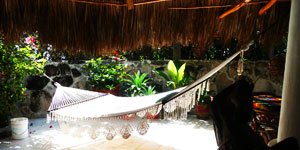 Last November we spent 6 weeks here at Villa Estrella. It's a lovely time of year, we come every year at this time, the rainy season is just over, and everything is lush green. The heat of the summer has started to wane, and the fresher winter season has not yet arrived, the ocean waters are deliciously warm, the tourists are nowhere in sight. It's a time of beauty, peace, and for reconnecting with our wonderful friends here in Mexico.
It's also a great time for us to make sure the Villa is properly spruced up for the upcoming rental season. The power of the summer storms, the huge amounts of wind and rain, the salt spray, all leave their mark. We make sure all the linens and towels are in good shape, replace worn kitchen utensils and do paint touch-ups. Often we take a trip to Guadalajara to restock on fabrics for draperies, get fresh colourful cushions for the banco, and replace tarnished light fixtures. This time we replaced some of the washroom faucets as they were looking tired as well. I think the ceramic tiles in the bathrooms are the next candidate for upgrade. The big item this year was the replacement of the entire palapa roof. The roof was now 12 years old, and the royal palm fronds that are woven into the wood framework were finally starting to crumble. Small bits of daylight were visible, and during the rains….well there would be drips on the floor.
Jackie always does a major garden tune-up. The wild summer storms lash the plants with salt spray which damages many of them. The heavy rains have beaten up all the flowering plants, so they need nursing.
The indoor plants suffer from light deprivation, so they get switched out for fresh ones. There is always a visit to the vivero (nursery) for a fresh supply. Often the little plants we put in years ago have become giants and suddenly there is too much shade, so those have to be pruned. This year I couldn't get my satellite internet dish to pickup the satellite signal….well you guessed it…the palm fronds had grown up so large, they blocked the satellite dish. Jackie and Jaime our gardener spend endless hours pruning, moving and replacing.
One of my favourite new acquisitions was the hammock. The old one, although lovely finally gave up the ghost as the woven cords finally disintegrated from old age. Hammock is mandatory. The hammock is hung from the big rock wall in a quiet corner behind the kitchen, surrounded by Bougainvilleas, hummingbirds and butterflies. I slip into it with a book, and before you know it am fast asleep. The one we found is an extra wide one, good for two.