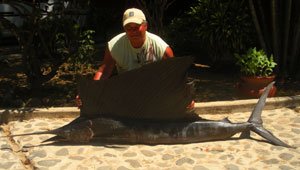 Mike and his wife Dunja from Seattle stayed at Villa Estrella in May. Mike turns out to be a fishing fanatic, and was dying to try his luck with the fish during his stay. The following story, "Fishing at Villa Estrella", is an extract from a very excited and happy email that Dujna sent me upon their return to Seattle.
Mike went out fishing with Ruben, the best fishing guide around, (he is from San Blas) and he said the experience was fantastic. Mike first tried his luck with one of the locals with the "Pangas" down on the beach in Platanitos but all they did was drive him to the Bajo and let him sit there for 3 hours even though not one fish was biting, he was very disappointed when he came back.
The next time, Mike decided to try his luck with a different fishermen. Ismael our manager at Punta el Custodio, recommend Ruben. Ruben picked Mike up on time, had sandwiches, water, sunscreen, cushions for the little panga, even a sail to provide some shade. Ruben has 40 years of guiding experience and was using a GPS to track the fish. First he caught a couple of Dorado and then suddenly a little bell was ringing and Ruben raced over to the pole and hooked the fish really hard (Mike is telling me the story as I didn't go…I get sea sick) and handed Mike over the pole. It took Mike 45 minutes to wheel in the fish (I guess its called "Bella" in Spanish? At least that's what Ruben was yelling…bella bella and pointed to the ocean while the bell was ringing).
He said the sight was amazing…the sailfish was jumping out of the water and was fighting really hard. Ruben and his "helper" got the fish into the boat and wanted to clean and filet it but Mike didn't have a camera so he said he has to take the full fish home to get a photo. Then Heimar and Vincente (I am sure I butchered their name) cleaned the fish and filetted it – very NICE! I had asked Heimar to divide the fish between all the employees of Punta El Custodio but I am not sure that happened…when I asked Ismael and Cynthia if they got fish they said no…fortunately we had some more and gave it to Ismael…Rosa also got some and Mike gave her all the Travails he caught on the rock down from villa Estrella.
Mike said they had to go out 4 miles out…kind of a little bit left of Villa Estrella at the point. I've attached a couple more photos. If you take a look at the very last photo and look really close you can see Mike caught in a big wave leaning at the rocks and the pole sticking out (grey hair…you can see his head in the middle of the photo in a dark spot and white shirt if you look really close)…he loved fishing off the rock to the right down from your Villa. He was in heaven!
Ruben said in November and December is the time to catch big fish, they were fortunate that they caught such a big fish this time of the year. Mike said Ruben was just amazing and how much knowledge he had about the area, a true fisherman who's pride is measured by how many (big) fish his clients catch (not like the Panga guys from Platanitos, they really didn't care if Mike would catch a fish or not).
Mike and I want to say Thank YOU for renting us out your villa and thank you Ismael for catering to all our special requests. Mike was very happy about his burger and the BBQ couldn't have come to a more perfect time to BBQ the sailfish he caught that day (I have attached you a couple of photos). We BBQ'd all the way out under the big fig tree to ensure no flames or ashes would get close to your beautiful palapa roof.
Your place is beautiful and we loved everything Rosa cooked for us, your personnel is fantastic, everybody is so friendly and accommodating. Thank you both for allowing us to stay in your beautiful villa and making our vacation so very special. We hope we will have an opportunity to come back soon.
Written By Dunja, Villa Estrella Guest, May 2010.