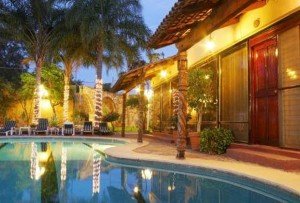 Whenever we come to Mexico, after a few weeks at Villa Estrella, we look for a change from beach ocean and surf. We jump into the suburban and take off for the state of Jalisco and Guadalajara. One of our favorite places in Mexico is in Guadalajara, the second largest city in Mexico.
We love the beautiful historic area of Tlaquepaque, which is almost an independent town within Guadalajara. It is rich with colonial buildings, historic atmosphere and absolutely full of wonderful life. If you hang around the main square area on any evening it's always abuzz with wonderful people, vendors, music, food and fun.
We stayed at a different hotel this time called the Quinta Don Jose Boutique Hotel. We loved it. This hotel is right in the center of Tlaquepaque, one block from the main square where the 2 gorgeous cathedrals are, and one block from the Mariachi square (for more inspiration, read the post about The Mariachis in Tlaquepaque). We got the last unit which was actually a little one bedroom suite, right across the road, nicely appointed and comfortable for only $85. It was like having your own apartment right in the town and an added bonus is that they have free telephone to USA and Canada.
Quinta Don Jose have a great 2-for-one happy hour with fabulous margaritas, which hit the spot after the 4 hour drive from Villa Estrella. We met up with our friend Ollie and his gang, who happened to be staying there as well and had a great time. Our villa renters who only know Puerto Vallarta are amazed to find how close Guadaljara really is, and what a genuine Mexican experience this city is. Puerto Vallarta is an overpriced tourist town, whereas Guadaljara and Tlaquepaque are a genuine experience in Mexican urban life and history.
The trip from our Puerto Vallarta Villa Rental to Guadalajara is also a wonderful adventure. Its an easy drive on great roads. The scenery and landscape are as beautiful as anywhere in the world. The small towns along the way include the town of Tequila, the center of the tequila distilling industry, that is set in a gorgeous tapestry of teal blue agave plantations.