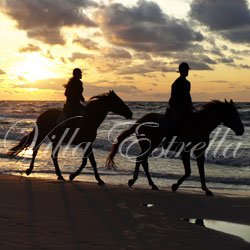 "We awoke to Rosa's breakfast as everything is coordinated at Villa Estrella, only to be told moments later our horses were ready for us and waiting on the beach. As we made our way down to the beach taking in the flourishing flowers around us, we were taken across the estuary by boat, only to see our beautiful horses awaiting us. We were greeted by our friendly guide who helped us with the horses. I was impressed with how healthy and well looked after all the horses were.
"As we began our ride, it was like out of a movie…we were the only ones on the 18km long sandy beach with the ocean waves crashing on our right and gorgeous palm trees for as far as you could see on our left. It was a scene out of a movie! We continued our ride along the beach, taking the horses and frolicking in the ocean waves when our guide stopped and cracked a coconut open for us to have a drink.
"We then cut through the palm trees and the guide led us down in behind the estuary where we hit a ravine of water allowing the horses to cool off a bit. As we rode back to Villa Estrella though the palm trees, we came across the crocodile sanctuary and were able to stop and have a break while looking at all the baby crocodiles! As we continued our ride through Turtle Bay we took in all the beautiful scenery and were very impressed at how well trained the horses were and well looked after! As our ride came to an end we galloped the horses down the beach one last time."
Written by Sarah E., Villa Estrella Guest, January 2010.
Add This Activity to Your Dream Vacation
It's no mystery why horseback riding is such an appealing activity both at Villa Estrella and many other places around the world.  That said, being able to enjoy it right from your own luxury villa rental in Mexico certainly does enhance the magic of the moment.
If you're wondering what you should know before your own horseback riding is conveniently arranged from Villa Estrella, here is some information you will find handy.
You Don't Need to Be Skilled or Experienced at Riding
No matter your experience level, you'll be able to safely enjoy horseback riding at Villa Estrella.  You'll start off with guides who will help you to mount the horses, and who can give you some added tips and advice if you'd like them. Your guide will be with you the whole way as you travel along the beach at a speed that is comfortable for you. This will allow you to become comfortable with your mounts and take in the sights, smells, sounds and feel of the entire experience as you ride along coast.
It's Not Just About Horseback Riding
Horseback riding is, of course, the central part of this experience, but you'll also enjoy astounding scenery and your guide will be sure to take you to unique places and hidden gems so you can take in parts of Mexico you may not otherwise have had the opportunity to see.
The Horses Are Well Cared For
The horses you will ride from Villa Estrella are exceptionally well cared for.  They are trained and treated very well.  Partway through your ride, your guide will bring you to a location where the horses can rest and cool down.  These animals are loved and respected. You will be expected to treat them well, too, being gentle with the reins. Take the opportunity to get to know your horse's personality and show your horse who you are, too.  You'll find that they are all friendly, but they are also unique.  You'll find that as you get to know each other, you'll gain a better understanding of each other and will be more aware and receptive to each others' needs.
Dressing for Horseback Riding at Villa Estrella
No fancy equipment is needed for horseback riding at Villa Estrella.  Ideally, all riders should wear long pants.  This protects your legs from chafing against the saddle. On your feet, closed-toe shoes should be worn.  If you have a pair with a bit of a heel to the shape of the sole, it will provide the stirrup with a bit of a notch to sit into so our feet won't slip out.  Avoid clothes that could become tangled as you interact with the horse or as you ride, such as scarves or long flowing shirts, skirts or dresses.