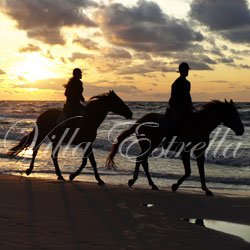 We awoke to Rosa's breakfast as everything is coordinated at Villa Estrella, only to be told moments later our horses were ready for us and waiting on the beach. As we made our way down to the beach taking in the flourishing flowers around us, we were taken across the estuary by boat, only to see our beautiful horses awaiting us. We were greeted by our friendly guide who helped us with the horses. I was impressed with how healthy and well looked after all the horses were.
As we began our ride, it was like out of a movie…we were the only ones on the 18km long sandy beach with the ocean waves crashing on our right and gorgeous palm trees for as far as you could see on our left. It was a scene out of a movie! We continued our ride along the beach, taking the horses and frolicking in the ocean waves when our guide stopped and cracked a coconut open for us to have a drink.
We then cut through the palm trees and the guide led us down in behind the estuary where we hit a ravine of water allowing the horses to cool off a bit. As we rode back to Villa Estrella though the palm trees, we came across the crocodile sanctuary and were able to stop and have a break while looking at all the baby crocodiles! As we continued our ride through Turtle Bay we took in all the beautiful scenery and were very impressed at how well trained the horses were and well looked after! As our ride came to an end we galloped the horses down the beach one last time.
Written by Sarah E., Villa Estrella Guest, January 2010.