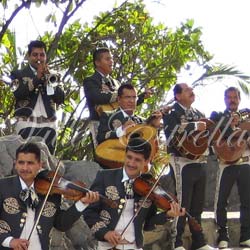 On occasion we will travel to Guadalajara to do some shopping. The trip takes only a short amount of time and it gives us and opportunity to explore other areas in the Jalisco province of Mexico. One of our favorite places we have discovered is a city called Tlaquepaque, which is just east of Guadalajara. Instead of making the drive home the same day we will often spend the night in this charming town to take in the authentic Mexican atmosphere.
Our absolutely favorite thing to do in Tlaquepaque is to attend the Saturday night Mariachi show in the mariachi square inside the big square donut restaurant complex that occupies a whole city block beside the main town square. It starts at 9:30, so don't get there too soon – grab a seat on one of the park benches, or settle into one of the many restaurants and enjoy the atmosphere.
The mariachis in Tlaquepaque set up on the big central gazebo bandstand. Pure classic Mexican mariachi music, 15 men dressed sharp in tight metal studded mariachi suits, sometimes with sombreros, fabulous trumpets, violins and guitars. And then the singers!!!! Beautiful women in sleek long traditional mariachi dresses with superb big sombreros and powerful voices that will curl your toes. The male singers also have incredibly powerful voices and huge sombreros. Imagine, if you can, a group of handsome men in classic Mexico attire brandishing pistols and singing their hearts out. The show goes on for a couple of hours. The action around the bandstand is about as good as the show itself. Watch families, children, pigeons, dogs, and street vendors – its all part of the show. Chances are you won't see too many tourists attending the mariachis in Tlaquepaque. This is real Mexico and we love it. We make the pilgrimage every year and this is one of the exciting Mexico activities that can be planned when you stay at Villa Estrella.