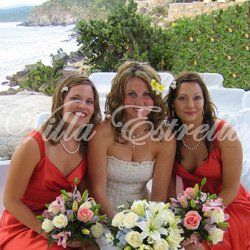 Planning your wedding in Puerto Vallarta is one of the best gives you can give to yourself and your future spouse.  The sheer beauty and simplicity when compared to creating an event at a venue back home simply can't be compared.
Puerto Vallarta is one of the most beautiful places in the world to host your wedding and reception. Planning your wedding in Puerto Vallarta is much simpler than most people imagine, particularly when you organize to hold your event at Villa Estrella. This stunning Mexican villa is the perfect venue for your special day.
Planning Your Wedding in Puerto Vallarta at a Private Luxury Villa
Planning your Puerto Vallarta wedding at Villa Estrella offers one of the most magical and spectacular places for you and your guests to celebrate your special day.
Puerto Vallarta can accommodate any size of wedding you may want to plan, ranging from a small family and friends-oriented ceremony to a large gala event. One of the great benefits of planning your wedding in Puerto Vallarta is the large selection of venues available. From all-inclusive family resorts to private Mexico villas, you will be able to find a venue to suit any style and size of wedding.
Another great benefit of planning your wedding in Puerto Vallarta is the type of wedding ceremony you decide you would like is completely up to you and can be as religious and festive as you like.
Getting the Right Paperwork is Straightforward but Necessary
If you are not a resident of Mexico, you will need to provide a valid Tourist Card/Visa and a valid passport to be legally married in Mexico. A civil ceremony must be performed at a local Civil Register Office (Oficina del Registro Civil) and this civil ceremony is separate from the official religious and/or festive ceremony that most people plan for afterward.
Also, to be legally married in Mexico, a blood test for RPR and HIV and Thorax (chest) X-rays are required and it is recommended that these tests be done in Mexico two days prior to your wedding (cost of the tests average $125 per person). If you are wanting to avoid the paperwork involved in getting legally married in Mexico, then a simpler option is to be civilly married in your own country prior to your departure for Mexico.
You've Got Lots of Help to Put Everything Together
When planning your wedding in Puerto Vallarta you don't have to do it alone. There are numerous wedding service providers who will assist you in planning your wedding as well as officiating the ceremony. The service providers include florists, caterers, entertainers, videographers, photographers, wedding service staff and accommodation planners for you and your guests. If you decide to host your wedding with Villa Estrella, all of these planners are coordinated for you, which makes your wedding planning simple and stress free.
One of the nicest features about a wedding in Puerto Vallarta is that you can hold your wedding ceremony and festivities right on the beach. Couples can also enjoy a small, intimate wedding as the sun sets along the beach. These are wedding photos you'll never be able to beat!
Puerto Vallarta ranks as one of the worlds most romantic and wonderful scenic locations for wedding ceremonies. A wedding on the beach can be organized such that the guests are transported to the location. The wedding ceremony is conducted after which the guests can enjoy festivities under the stars. They can then be driven back to their hotels or villas.
Planning Your Wedding in Puerto Vallarta Gives You Venue Choices
You may be wondering what type of venue would offer the best fit for your wedding and your guests. Fortunately, Puerto Vallarta has it all. One of the best choices are villa rentals in Puerto Vallarta where couples can hold their weddings and accommodate their guests. These villas typically offer amazing venues along the beautiful beaches. They are therefore ideal for small weddings of about 150 guests.
Of the villas available for hosting a wedding, Villa Estrella is the best, both for its beauty and high-quality accommodations. Have your wedding ceremony by the grand pool as a Mariachi band fills the air with music and hundreds of fresh flowers shower your guests with a beautiful aroma. Following your ceremony, hold your reception in the grand room underneath a masterfully designed palapa roof and treat your guests to some of the most exquisite foods and drinks that Mexico has to offer. For more information about planning your Puerto Vallarta wedding at Villa Estrella, CLICK HERE.
The Best Time to Get Started is Today!
A couple can also have their wedding ceremony and reception in various hotels that allow such events to take place on their property. The hotels provide basic items such as the seats for the wedding guests, white linens tables, and chairs. Hotels charge a set up fee or a ground fee. They also provide catering as well as bar services for the wedding reception.